Planes An-2
«The site of the An-2 plane dedicated to my parents, who worked
in the far north in the civil aviation, Maximov V. A. and Maximova R. I.»
Site about planes and people devoted themselves to aviation
Multi-purpose plane An-2 is original first of all because that its scheme — bracing wire biplane — has proved at time of service high reliability and safety. The correct design rescues people in emergencies.
An-2 can make land even to unequipped area, without means of ground navigation and special landing strip. In spite of breakoff engine it runs on planing.
An-2 is the only plane in the world, which has been producing more than 71 years!
Model types of this series are produced and nowdays. It is a record of "Guiness Book".
The first flight was executed by the plane on August, 31st, 1947 in the city of Novosibirsk.
The plane has been accepted with engines ASH-62IR to a commercial production as An-2.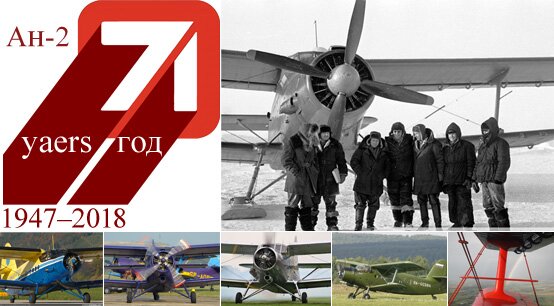 The idea of design of the multi-purpose plane was thought over by Oleg Konstantinovich Antonov long before the organization of his design bureau. World War II of 1941–1945 changed priorities, but the belief in such plane did not die away (go out).
After World War II, in March 1946, after design office was created, Antonov developed a the new plane named "An-2".
Its motto could become words: "Do everything, fly everywhere". For the branches dependent on large ground services and resources, such parameter is of great vital importance.